Tropical Fruits in Thailand. You will find them exotic.
Thai fruits are renowned for their unique flavors, vibrant colors, and exotic qualities that often captivate foreigners. Here are some famous and exotic Thai fruits that are particularly popular among foreigners.
Mangosteen | Thai name: Mang-khud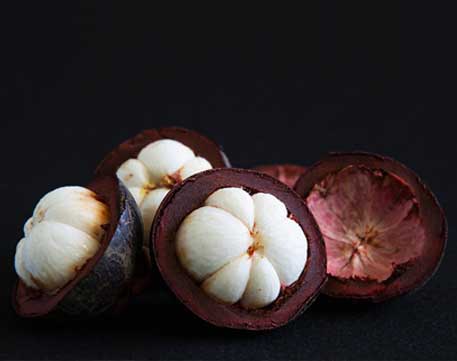 Mangosteen (Scientific name: Garcinia mangostana Linn.) : Mangosteen, often hailed as the "Queen of Fruits", is celebrated for its exquisite taste and stunning appearance. Encased in a deep purple, leathery rind, this fruit contains a delicate balance of sweet and tangy flavors. The inner white segments are juicy and succulent, offering a combination of flavors that evoke comparisons to peach, strawberry, and citrus. Not only is mangosteen delicious, but it's also rich in antioxidants and nutrients, making it a sought-after tropical delicacy.
Durian | Thai name: Tu-Rian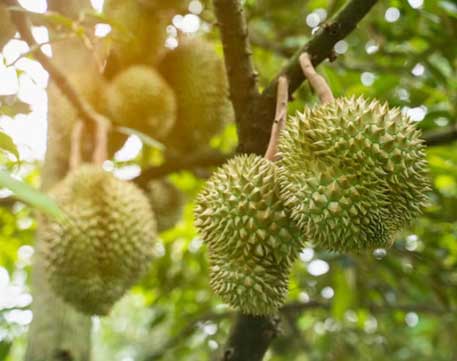 Durian (Scientific name: Durio) : Durian, often dubbed the "King of Fruits", is perhaps one of the most intriguing and polarizing fruits in the world. Its spiky husk hides a creamy, custard-like flesh that can be an acquired taste due to its strong aroma, which some describe as a mix of turpentine and onions. While its odor may be off-putting to some, those who appreciate its complex and rich flavor find it absolutely delightful. Durian is enjoyed both fresh and incorporated into various dishes, from ice creams to pastries.
Pomelo | Thai name: Som-O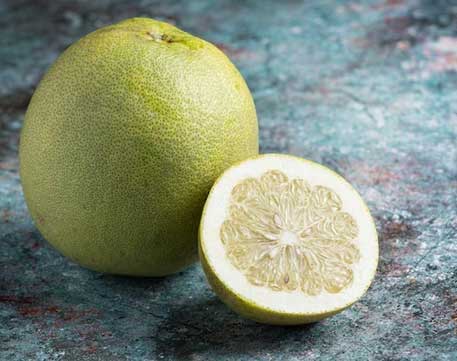 Pomelo (Scientific name: Citrus maxima) : The pomelo, with its thick and sturdy rind, is a citrus fruit that boasts a refreshing, mild flavor. Beneath the pale green or yellow skin lies the juicy, pale segments that are slightly sweet and tangy. Often likened to a sweeter version of grapefruit, pomelo is a popular choice for salads, fruit plates, and snacking.
Dragon Fruit | Thai name: Gaew Mung Gorn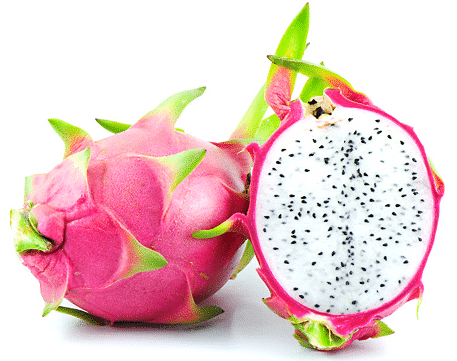 Dragon Fruit (Scientific name: Hylocereus spp) : Dragon fruit is a visual delight with its striking pink skin and speckled flesh filled with tiny black seeds. Its taste is subtle and mildly sweet, making it a versatile ingredient in both sweet and savory dishes. This fruit is a favorite for smoothie bowls, fruit salads, and desserts due to its vibrant appearance and pleasant taste.
Dragon fruit is a beautiful fruit grown in Southeast Asia, Mexico, Central and South America, and Israel. The plant is actually a type of cactus, and the fruit comes in 3 colors: 2 have pink skin, but with different colored flesh (one white, the other red), while another type is yellow with white flesh.
Dragon fruit is a low calories and offers numerous nutrients, including Vitamin C, phosphorus, calcium, plus fiber and antioxidants. Dragon fruit tastes wonderful, sweet and crunchy, with a flavor that's like a cross between kiwi and pear.
Rambutan | Thai name: Ngoa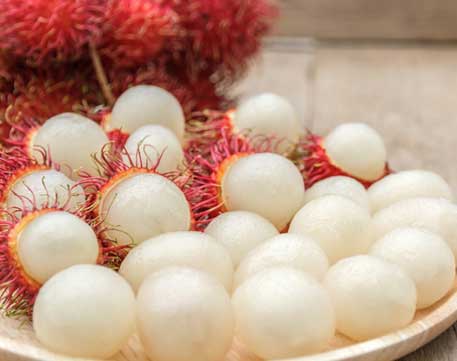 Rambutan (Scientific name: Nephelium lappaceum) : Recognizable by its hairy exterior, rambutan is a tropical gem that reveals juicy, translucent flesh when peeled. Similar in taste to its relative, the lychee, rambutan offers a sweet and slightly acidic flavor. Its delightful combination of texture and taste makes it a sought-after fruit, commonly enjoyed fresh or as an accompaniment to desserts.
Longan | Thai name: Long Gan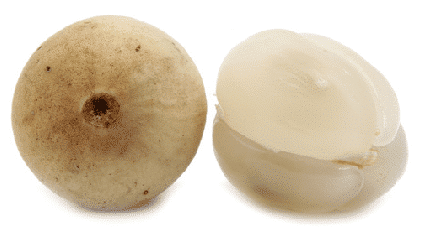 Longan (Scientific name: Dimocarpus longan) : Named for its resemblance to a dragon's eye when peeled, the longan offers a subtle sweetness with floral undertones. The translucent, juicy flesh is both refreshing and soothing. Popularly used in desserts, teas, and beverages, the longan is a symbol of rejuvenation and vitality in Thai culture.
The fruit is grown in southern Thailand particularly in areas of high humidity i.e. Narathiwat, Nakornsrithamarat, Surat-Thani, Chumporn. It appears in clusters as small round balls with soft pale yellow skin inside the flesh is smoky white with a sweet taste. It is rich in calcium, phosphorus, potassium, iron and vitamin B1 B2 and C. Season of Longkong in Thailand April – November.
Jackfruit | Thai name: Ka-Nun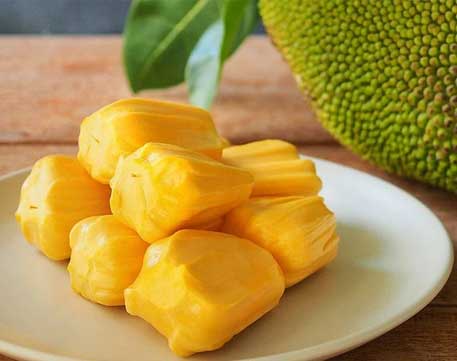 Jackfruit (Scientific name: Artocarpus heterophyllus) : Jackfruit's reputation as the world's largest tree fruit precedes it, and its sweet aroma adds to its mystique. The fibrous, yellow flesh can be consumed ripe for a dessert-like experience or unripe as a savory meat substitute. Its versatility makes it a staple in Thai cuisine, featuring in curries, stir-fries, and even desserts.
Tamarind | Thai name: Ma-Kham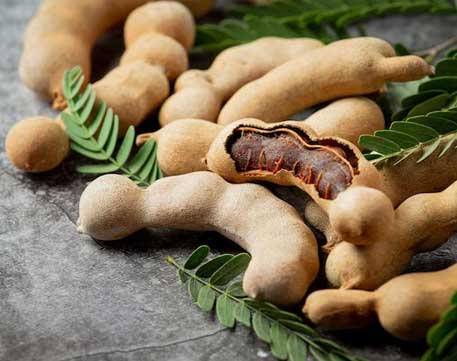 Tamarind (Scientific name: Tamarindus indica) : Tamarind pods house a unique pulp that is both sweet and tangy, contributing a depth of flavor to various Thai dishes. Used extensively in sauces, marinades, and condiments, tamarind adds a pleasant contrast to savory and spicy flavors. The fruit's versatility makes it an essential component of Thai culinary culture.
Custard Apple | Thai name: Noi Na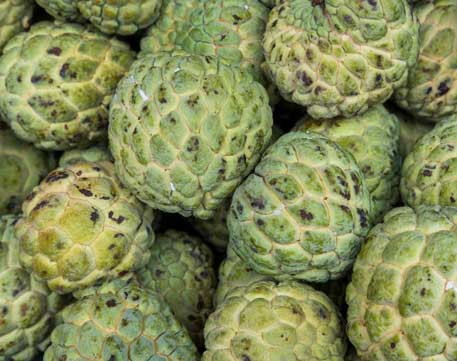 Custard Apple (Scientific name: Annona reticulata) : With a name that evokes its creamy texture, the custard apple is known as "Noi Na" in Thailand. The sweet and tangy flavors within the pale flesh offer a delightful experience that resembles custard, pear, and apple. Often enjoyed fresh, custard apple brings a unique twist to traditional fruit consumption.
Sapodilla | Thai name: La-Mud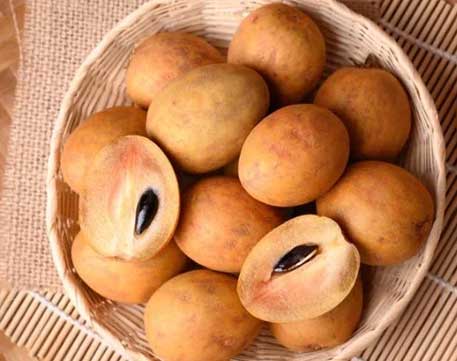 Sapodilla (Scientific name: Manilkara zapota) : Sapodilla, boasting a rough brown skin, offers a sweet, malty flavor with undertones of brown sugar, pear, and apple. Its grainy texture adds an enjoyable element to its consumption. Often consumed fresh, this fruit offers a delightful combination of taste and texture that appeals to those seeking a tropical indulgence.
Tangerine | Thai name: Som-Keaw-Wan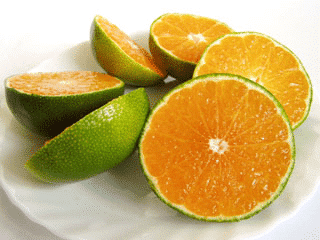 Tangerine (Scientific name: Citrus reticulata) :Thailand boasts a range of tangerine varieties, each with its own distinct characteristics. From the sweet and easy-to-peel "Clementine" to the tangy and vibrant "Mandarin," tangerines come in various sizes and hues. Their thin, loose skin is a hallmark feature, making them a convenient and mess-free snack. Taste and Aroma: Tangerines are celebrated for their juicy segments that burst with a tangy-sweet flavor profile. The aroma of freshly peeled tangerines is invigorating and uplifting, making them a popular choice for both consumption and aromatherapy. Their balanced acidity and natural sugars make them a delightful treat that appeals to a wide range of palates.
ROSE APPLE | Thai name: Chom-Pu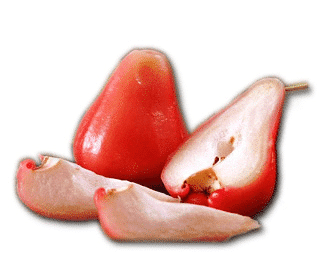 Rose apple (Scientific name: Syzygium jambos) is a delightful and unique fruit that captures the essence of Thailand's tropical bounty. Its scientific name, Syzygium jambos, might not immediately roll off the tongue, but its delicate flavor and refreshing qualities make it a favorite among locals and visitors alike.
JUJUBE | Thai name: PUT-SAR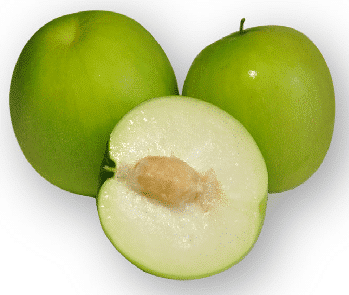 Jujube is varying from round to elongate and from cherry-size to plum-size depending on cultivar. It has a thin, edible skin surrounding whitish flesh of sweet, agreeable flavor. The fruit can be eaten after it becomes wrinkled, but most people prefer them during the interval between the yellow-green stage and the full red stage. Tests in Russia indicate a very high vitamin C.