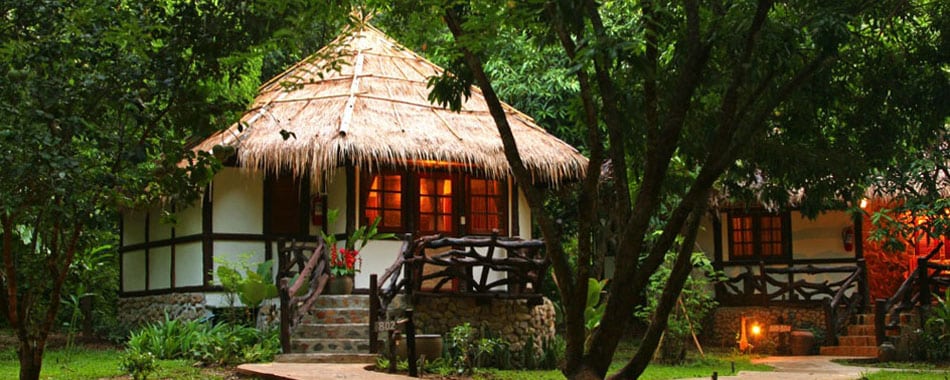 The River Kwai Resotel – Kanchanaburi Hotels & Resort (ริเวอร์ แคว รีโซเทล) offers you a perfect blend of serenity, comfort and adventure. It is located in the marvelous backdrop of stunning greenery and the history- charged river Kwai and offers every imaginable kind of comfort and at the same time is the perfect home base to discover the Kanchanaburi area with all its hidden treasures. The area became famous through Pierre Boulle's novel "The Bridge on the River Kwai" and the corresponding movie by David Lean, which tell the tragic yet fascinating story around the construction of two bridges crossing the river. One of which can still be visited today.
The resort provides 93 individual chalets; its luxurious equipped rooms convey the lively and stunning atmosphere of the jungle with its fragrance, colors and feel whilst ensuring all modern conveniences. The cozy chalets with thatch-covered roofs are furnished with beautiful wooden furniture, comfortable beds, are equipped with a individually adjustable air-conditioning and provide a luxurious en suite bathroom and terrace for your utmost comfort.
Take a swim in the beautiful turquoise pool, relax with one of the soothing herbal treatments or relax on the sun deck on the comfortable daybeds with a stunning view on the river. For those more adventurous guests we offer fascinating excursions alongside the river.
You too can experience "a slice of paradise" as the River Kwai Resotel was fondly called by one of the guests. The resort guarantees an exceptional experience in the heart of the jungle along the River Kwai.
River Kwai RESOTEL
55 Moo 5 Tambol Wangkrajae, Amphur Saiyoke,
Kanchanaburi 71150, Thailand
Tel: +66 (2) 642 5497 (Office)
Call resort: +66(0)81 734 5238
Email: [email protected]
Website: https://www.RiverKwaiRESOTEL.net